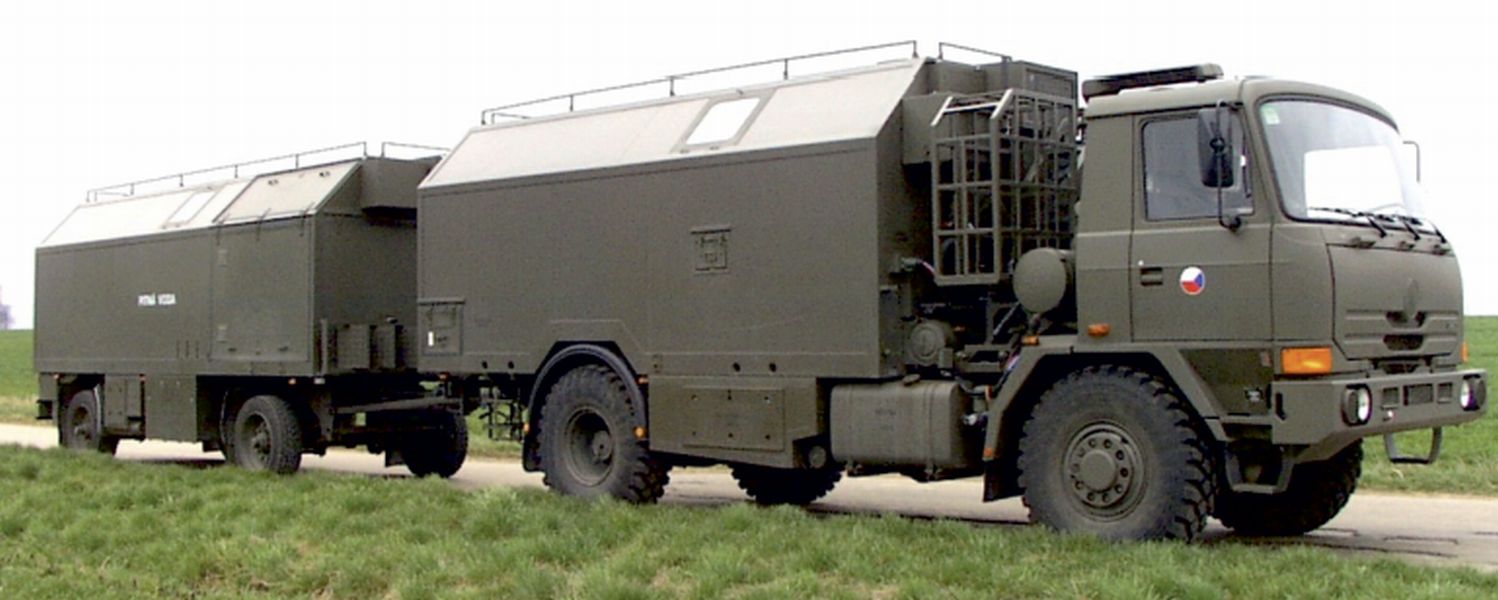 MOBILE FIELD KITCHEN POKA 4
POKA 4 is intended for preparation, regeneration and distribution of the high-quality warm food on the level unit during the troops activity in the field conditions. POKA 4 could be used both in the CZ territory and in the foreign missions too. It ensures the operating personnel transport, food and drinking water supply. POKA 4 is designed for replacing the actual old mobile POKA 3/1kitchen.
The POKA 4 set is created by the van with the internal equipment adapted for the proper food preparation and distribution; and by the box trailer with the internal equipment adapted food and drinking water storage. The vehicle and trailer bodyworks enable, by the shape and dimensions, the rail transport. Also the independent electrical energy source (EC 16 kW) is in the equipment. POKA 4 is fully equipped with the basic technologies for the microclimate treatment. POKA 4 is able to go through the areas contaminated by the weapons of the mass destruction.
Basic functions:
Raw foods processing;
Foods processing by cooking, steaming, frying and roasting, defrosting possibility, regeneration of the cooled or frozen foods and keeping the foods temperature during their distribution;
Storage and distribution of the warm food for up to the 4 hours after its finishing;
Water heating for the dishes and kitchen equipment washing and for the crew hand hygiene;
Independent operation with the drinking water consumption from own storage tanks;
Possibility of the connection to the external source of the pressurised or non-pressurised drinking water;
Possibility of the universal connectivity to the external 3×230/400V, 50 Hz distribution net with any protection against the electrical shock.
BASIC TACTICAL AND TECHNICAL DATA:
Chassis type:
TATRA T 815 26WR45 17.255
4×4.1/T13
Vehicle external dimensions (l×w×h):
8 350 × 2 500 × 3 420 mm
Weight (operational):
14 000 kg
Trailer type:
PV 18P
Trailer external dimensions (l×w×h):
8 450 × 2 520 × 3 360 mm
Weight (operational):
11 000 kg
Electric source:
own EC 16 kW,
type Č-EDM 16-T400/230-2V-C
Crew:
3 persons
Capacity
50 to 150 foods, 3× a day (one-time up to 250 simple foods)
Fuel (basic):
diesel oil (F-54)
Operational conditions
– 32 °C to + 44 °C