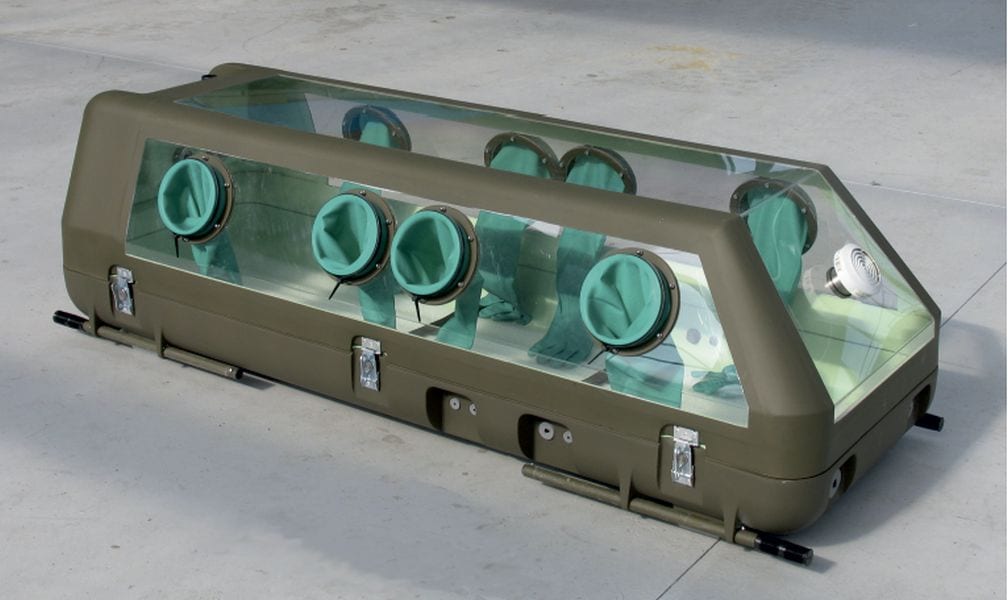 TRANSPORT BOX BIOBOX
The BIOBOX Transport Box is intended for isolation and transport of patients suspicious of highly infectious viral diseases of all known types, posing biological risk for all other persons, environments and devices.
The box consists of two fix fibreglass parts, mutually connected by quick-acting fasteners. The transported person's position could be fixed by two safety belts. The transported person could be accessed through opening in the box upper part. The openings are equipped by four pairs of nitride gloves. The filtering and air-conditioning unit (FVJ) ensures permanent underpressure inside the BIOBOX internal space. The unit is supplied by accumulator. The unit's operation time depends on adjusted air flow and used filters. Accumulator condition, mode of operation, time remaining to the filter replacing and other data are displayed on the integrated display. The air flowing from the unit is filtered by two output filters; also the air flowing into the box is filtered. The BIOBOX is delivered without chassis. It could be delivered with a mounted, removable MEDIROL chassis based on the customer's wishes.
BASIC TECHNICAL PARAMETERS:
| | |
| --- | --- |
| Dimensions (l × w × h) | 2 000 × 720 × 675 mm |
| Weight | 55,5 kg |
| Storage temperature | -20 to +40 °C |
| | |
| --- | --- |
| Carrying capacity | 110 kg |
| Internal underpressure | min. 150 Pa |
| Air exchange | 160 – 300 l/min (3-stage regulation) |
| FVJ time of operation | 4 – 10 h (depend on adjusted air flow) |