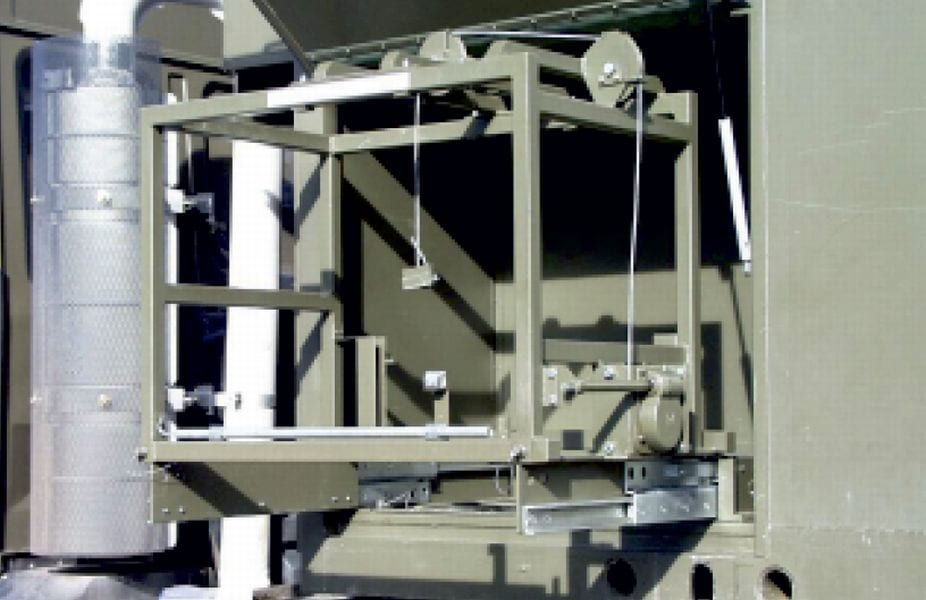 LIFTING DEVICE EC 4kW ZZ-EC 4 kW
Lifting device EC 4 kW (ZZ-EC 4 kW) is intended for the manipulation with EC 4 kW, which means for its unloading, launching to the ground, reentry lifting, placing into the case and fixing. It is mounted into the EC case. It is to be operated by the crank, by which the coiling drum is operate through wormgear unit.
ZZ-EC 4 kW CONSISTS OF THESE MAIN PARTS:
fix frame with the extension tracks wired in the EC case
bottom (serves for the storage and holding of the rollout cage and EC in the transport position);
rollout cage is the lifting device itself, by which the EC is handled (it is constructed by the frame equipped with the extension tracks on both sides);
lifting mechanism (located on the right side of the rollout cage) which consist of:

swift with self-locking work-gear unit;

drum roller for the placement of the rope;
centering roller (guides the main rope to the drum roller);

lifting frame fixed on the upper part of the EC frame (secure the hinging of the EC on the rope).
BASIC TACTICAL AND TECHNICAL DATA:
| | |
| --- | --- |
| outside dimensions (l x w x h): | 1 065 × 630 × 840 mm |
| lift | 1 800 mm |
| weight of the lifting device | 75 kg ± 1 % |
| weight of the device with the hinged EC | 225 kg ± 2 % |
| loading limit of the device | 200 kg |
| main rope: | |
| diameter | 5 mm |
| length | 5 m |
| operating conditions: | |
| outside temperature | – 30 °C to + 44 °C |
| relative dump | to 90 % on + 30 °C |