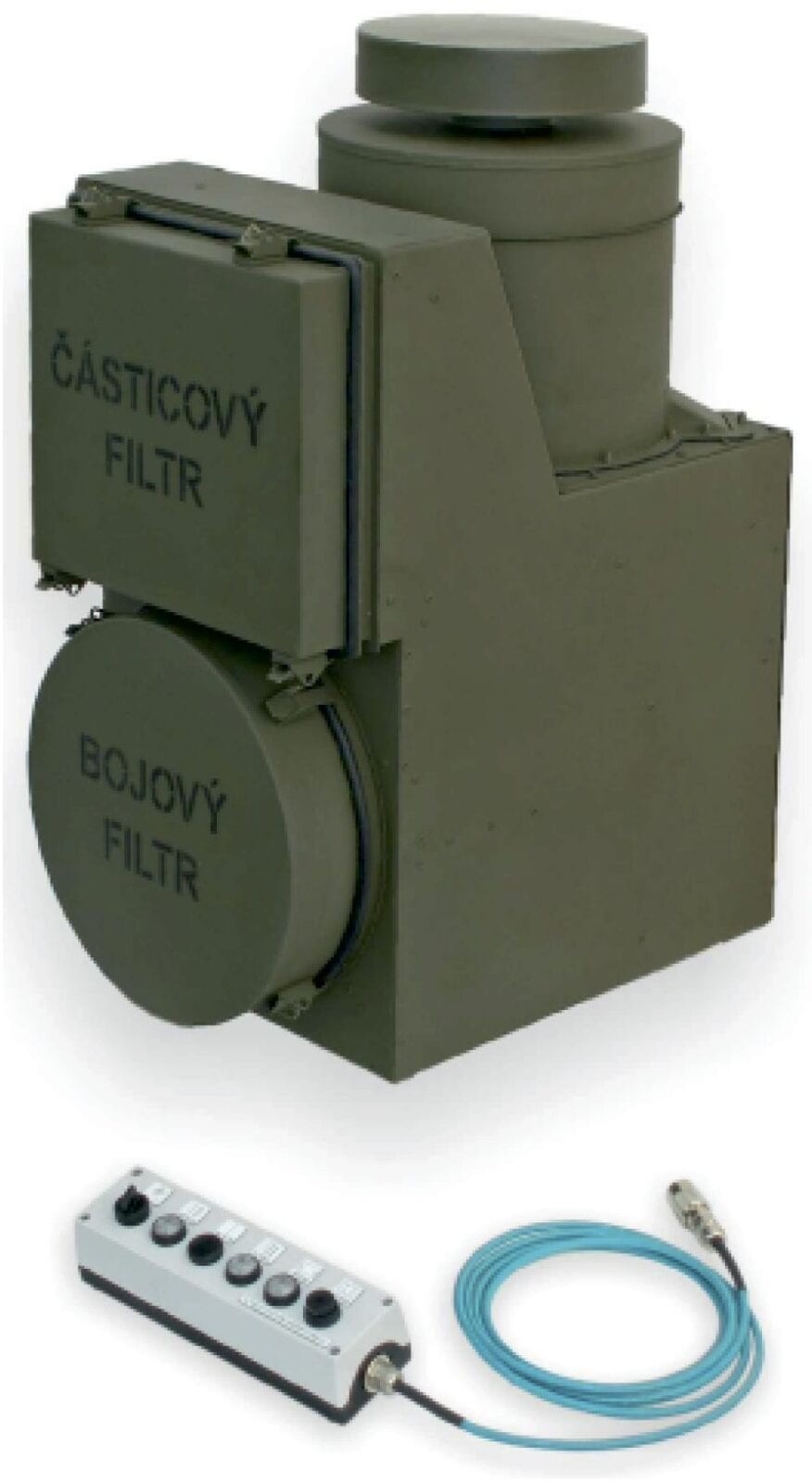 FILTRATION AND VENTILATION UNIT FVZ-98M (KP)
FVZ-98M(KP) is intended for supplying of protected space of COLPRO means with filtered air even under conditions of mass destruction weapons usage. It ensures the air clearance of dust (even radioactive) and of combat gas in the form of gas and aerosols. . It creates the overpressure in the mass-protection space that prevents from toxic substances penetration into the crew compartment. It is to be installed outside the object. On demand it is possible to adjust it for the indoor mounting.
FVZ-98M(KP) is the modernized device FVZ-98 which is, compared to the previous version, characterized by:
compact construction;
use of cyclone air separator with continuous dust exhausting;
remote (electrical) switching from the ventilation mode to filtration;
use of additional filters in the ventilation mode till the Hepa level;
simply operating and more quiet motion;
the device may be fitted with a tester of tightness of the protected object.
BASIC COMPONENTS OF FVZ-98M(KP):
filtroventilation unit;
filters;
control box;
vent valves.
BASIC TACTICAL AND TECHNICAL DATA:
| | |
| --- | --- |
| Dimensions | 400 × 610 × 892 mm |
| Nominal air supply | 100 m3 · h-1 |
| Air overpressure in the crew compartment | 300 Pa ± 10 % |
| Nominal voltage/current | 24 V DC/7A |
| Climatic resistance | -32 °C to +44 °C |
| Weight without filters | max. 54 kg |
Electromagnetic radiation: ČOS 599902:2007, 2nd edition (MILSTD 461E:1999) RE 102, CE 102.
Electromagnetic resistance: ČOS 599902:2007, 2nd edition (MILSTD 461E:1999), methods RS103, CS101, CS114, CS115, CS116; AECTP- 500: 2000, method 511.