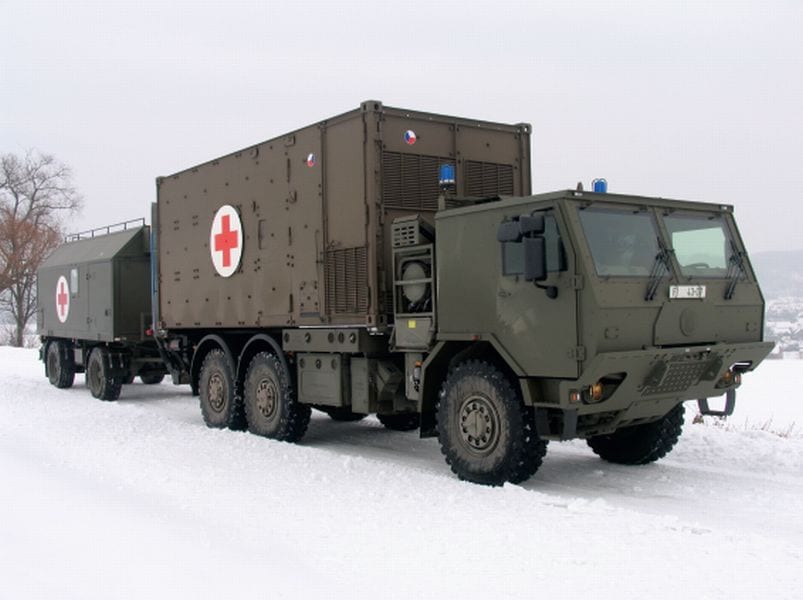 MOBILE MEDICAL UNIT POP-3
POP-3 mobile medical unit with ballistic protection is designed for the usage in the framework of Czech Army medical services.
POP-3 is intended to provide the lifesaving activities of first aid and to carry out small surgical interventions at point of the tactical units, field hospital assemblies and garrison infirmaries.
In peacetime it serves for the providing of training and for the commission in case of natural disasters and other emergency situations.
POP-3 allows the passage through the contaminated areas and the operation in the place of deployment within the temperature from -32°C to +49°C. POP-3 is independent on outer power source and is possible to be connected to the external electrical source 3×230/400V/50Hz, 32A/5p with any touch voltage
protection.
Medical operations are generally aimed at:
surgical operations;
non-surgical treatment;
POP-3 set consists of:
T 815-7, 6×6 Tatra cross-country vehicle with ballistic protected cabin;
special container body with ballistic protection, purpose and medical equipment;
double axe trailer with hermetic space for transport of material and for emergency rest of the operators;
main independent source of the electric energy power generator EC 16 kW;
backup independent source of the electric energy power generator EC 10 kW;
technological equipment enabling the passage through the contaminated area and ensuring the inner microclimate of the workplace (filtration and ventilation unit, independent heating, air conditioning);
air-supported tent with adequate equipment for the preparation of the wounded persons for medical treatment itself (preparatory unit).
POP-3 basic medical equipment:
MERIVAARA Emergo 6250 mobile medical trolley with the adaptation for NATO stretchers;
device for medical instruments sterilization (package welder, steam sterilizer);
• device for patient resuscitation (Oxylog 1000 portable ventilator, oxygen distribution, backup oxygen
bottles, hand-operated Ambu Mark IV resuscitation apparatus);
battery operated Laerdal LSU vacuum extractors;
Corpuls3 defibrillator with monitor and patient module;
injection dispensers and ARGUS infusion pumps;
LHH Plus 20 medical light;
refrigerator 60 l with freezing box 10 l,
water system (water supply of 200 l, water flow heater, pressure manifold);
set of surgical instruments and devices;
set of sterile dressing material;
set of splints,
set of medicaments;
set of expendable medical supplies.